Linux Server Data Recovery Service
Server Data Recovery and Storage Recovery from all types of crashed, damaged, failed NAS, SCSI, SCS, SAS, SCA, RAID and SATA drives.
Our Server Data Recovery services are meant for corporations and mid-sized business that manage their computing infrastructure from a centralized server on a network.
At start-up, mainstream Linux distributions perform routine scans to identify and fix any inconsistencies within its own file system. A damaged file system might be caused by a bad shut down, in the event of a power cut. These scans will not always detect hardware failure which might have existed for a long period without being noticeable to users. New files saved to bad sectors on the media can make the situation worse, and with further usage, and at the worst possible time, the media will eventually become unreadable.
Linux Server Recovery - What we offer?
Our core business is data recovery from all types of hard drives or server infrastructure. Some of the systems we deal with regularly include:
Cent OS
Oracle Solaris
Ubuntu Linux
Apple RAID family of servers
Red Hat Enterprise Linux
Oracle Linux
IBM AIX
Most other distros
Server Recovery Success Rate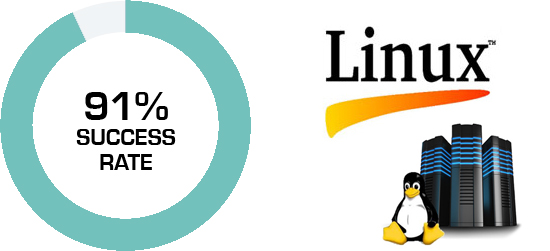 Note that we have a 91% success rate across all our Linux and other server recoveries. Of the few servers that we were unable to recover data from, most had suffered extensive physical damage, (scratched media surfaces), from sabotage, physical drops, in internal head crashes. Contact us today if you need advice on your next step.
Backup Strategy
Today it's not enough just to backup your data to drives located locally. IT professionals are turning to backing up data to an off-site server and running regular live backup tests to ensure data is always verified, safe and secure at all times. Backing up data to multiple off-site locations can add extra layers of security to your data, in the event of a hardware failure occurring at one of your remote offices.
If your business does not have a business continuity plan or data backup strategy in place, call us at Data Recovery Sweden and speak to our advisors. We'll show you how your data can be made safe and secure. And how to back it up to multiple hosted private data centers, and be made available on immediate recall, if you suffer a company wide data loss.